Markings
The Blaze is the wedge shaped white marking which comes to a point just above the eyes.
The Cheeks are the colored (not white) portion of the cheeks. The cheeks should not be to high (create eye circles) or too low (color runs into the mouth).
The Triangle is a wedge shaped marking behind the ears.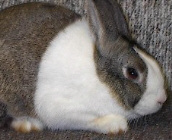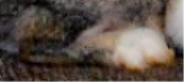 Stops are the markings on the hind feet. Stops should be one third of the foot and completely round.
The Saddle is the dorsal part of the white belt extending around the Dutch and should be straight. A rule of thumb is the saddle should be as long as the ears are when the ears are laid flat.
The Undercut is the continuation of the saddle on the ventral side of the rabbit. Again, this marking should be straight. A rule of thumb is the undercut should extend just past the elbows when the animal is posed properly. When a judge is judging the undercut, the judge will hold the rabbit in a "posed" position.